Ordering of Samples & Texture files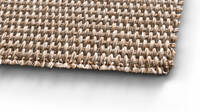 The unique NATURAL BORDER emphasizes the natural character of the collection. It gets its very special touch through a new type of edging. The sewn edges with open yarn ends reflect the Mediterranean lifestyle and is a special feature that meets even robust outdoor requirements. This special edging type adorns our CAPRI, MENORCA and RODI qualities as standard. in rectangular and square shapes. Our MEDITERRANEO carpets are made with the high-quality TEXTILE BORDER in round shape.
Colours
5
Wearability EN 1307 (commercial high)
The wearability is determined on the basis of density, hardness, flammability as well as acoustic and thermal properties. Depending on the wearability, floor coverings are divided into strains classes that provide information on possible fields of application.
L
Comfort class EN 1307 (LC1)
The comfort value of textile floorings is calculated according to the European norms on the basis of parameters (weight or thickness of the pile material used as well as the number of nubs or loops). A higher LC value (= Luxury Class) means a higher comfort value. The more crowns the symbol shows, the more luxurious the textile flooring is.
s
Suitability for chair castors (intensive usage)
Textile floor coverings are extremely strained when using office chairs. Only extremely robust textile floor coverings are suitable for the use of chair castors. Due to varying levels of strain, a distinction is made between the use in the private sector (symbol: chair castor and house) and the use in the object area (symbol: chair castor).
W
Suitability for stairs (intensive usage)
When using textile floor coverings on stairs, the parts of the carpet that rest on the edge of a step become extremely stained. Only carpets bearing one of the two symbols are suitable.
K
Light fastness ISO 105-B02
The symbol indicates that the textile floor covering meets the basic requirements for light fastness (>=5, for pastel shades >=4) in accordance with the test method EN ISO 105-B02.
3
Skid resistance
According to EN 14041, floor coverings must comply with certain safety aspects, including the slip resistance. To be equipped with the DS symbol, the textile floor covering must have a dynamic coefficient of frictional resistance of >0.3 in a dry and unpolluted condition.
b
Electrostatic loading EN 1815
Particularly contract areas often place higher demands on the electrical behavior of floor coverings, e.g. in computer rooms. The symbol indicates whether the textile floor covering is conductive.